The Mani offers many advantages which make it a dream location when buying property for permanent residence or a summer house.
---
1. Climate that is close to perfection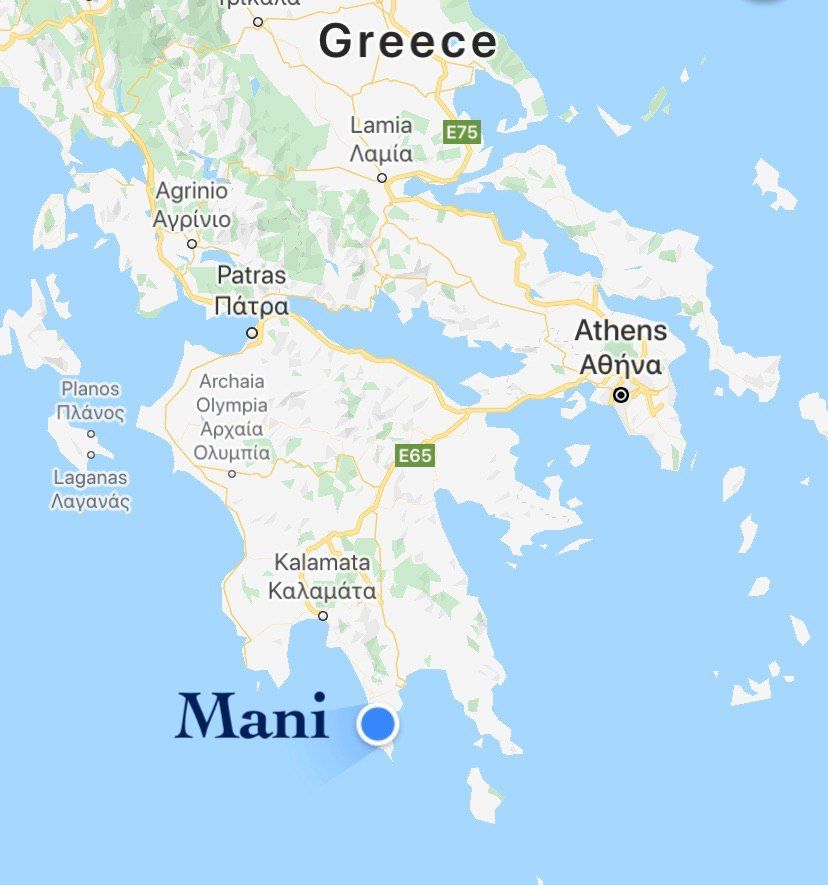 Located in the southern region of the Peloponnese peninsula of Greece, the Mani has a climate that is close to perfection. In keeping with typical Mediterranean conditions, the sun shines almost all year round. Annual temperatures range from +30º in the summer months never dipping below 10º during daylight hours in winter. Spring arrives in Mani, bringing with it the power of nature, colourful flora and the rich smell of fresh wild herbs. The weather is predominantly sunny with cool evenings and occasional showers in the run-up to summer.
The beaches are a terrific place to be during the hottest months, with white sands, blue skies and warm seas. If it ever gets too hot, there is always the option to go hiking in the nearby mountains where lower temperatures will cool you down. A strong and dry north wind known as the 'Meltemia' or 'etesian wind' also offers some relief for the summer sun.

---
2. Natural Healthy Food and Water
When it comes to food and cuisine, there is no greater contrast from modern eating habits than the Mani. The disaster of herbicides, pesticides, plastic packaging and imported GMO foods from supermarkets is not an option in this part of the world. Instead, you will have to adjust to local food markets selling fresh organic crops from the exceptionally fertile lands surrounding the area. Known for producing the best olives and oranges in the world, fish, cured meats, honey, dairy, fruits and vegetables are available in abundance.
A simple, tasty and incredible healthy Mediterranean diet is the only way to go in the Peloponnese peninsula. And talking of menu's, the local cuisine is earthly and simple. Dining alfresco on the most glorious foods and wine while taking in some of the most stunning scenery is a life experience. And all for the price of a Dominos Pizza meal deal?
---
3. Amazing Nature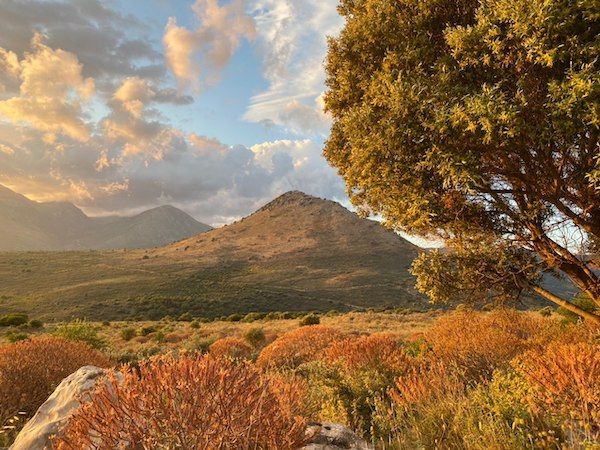 There is an excellent reason why millions of nature lovers visit the area around Mani each year. To give you some idea, it has something to do with the dramatic and stunning scenery in these parts. From pristine coves with sapphire coloured waters to snowy mountain tops surrounded by 200 miles of harbours and beaches, nothing is more spectacular and varied. In between these extremes lies a network of small enchanting villages with stone villas blended into the arid Mani landscape in amongst bountiful olive groves.
Many blissful hours can be squandered walking threaded nature trails. Numerous Pathways exist connecting ancient monuments to enchanting forests, and coastal harbours leading to cobbled streets bustling with cafes, taverns and restaurants. The purity of the air and rugged, unspoilt landscape will leave you feeling relaxed and inspired. Incredibly, much of the area in and around Mani is still to this day under-explored.
---
4. Friendly People
The attitude of the locals should be an essential consideration before moving to a new country. Greek people are renowned for their warmth and friendliness and are welcoming to foreigners. This one reason alone should make Mani your top destination since the same is not true in other places.
Greek people have a strong sense of family and community, and this is especially correct regarding the people of Mani. Maniots living in rural areas rely on each other more so than Greeks residing in cities. Decades of conflict and hardship has only served to strengthen their spirit and make the local inhabitants extremely resilient. They are passionate, authentic people who enjoy simple living. They take pleasure from real things like cooking, entertaining and spending time with family and friends. The good nature of the locals should be reassuring to anyone considering permanent or seasonal relocation to the Mani.
---
5. Medieval  Architecture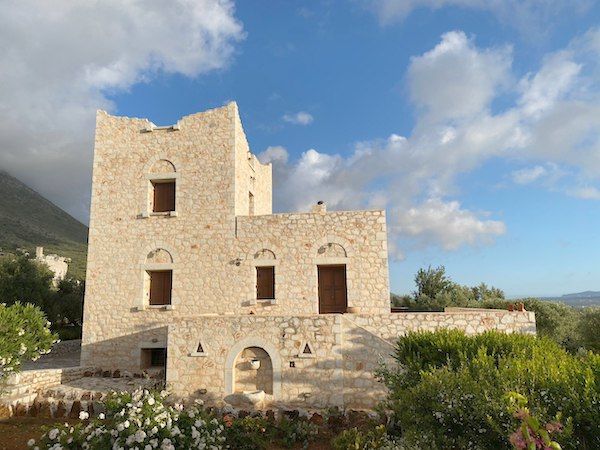 You will find very few modern fabrications in Mani. Building reconstruction in the area aims to preserve stone structures, especially since plenty were built between the 14th and 18th centuries. Many properties here are made with heavily fortified stone walls two meters thick, erected during the Turkish 300-year occupation. These unreachable and impenetrable fortresses survived a colossal Turkish Army and remain mostly intact.
You can feel the spirit of independence as you drive through the Mani countryside today. Stone villas, houses, and towers built in the times when engineers paid with their life if they made a mistake, sprinkle the landscape. But making your castle a home here is unlikely to cost you an arm and a leg. You could say these architectural wonders of ancient engineering are very affordable in comparison to the price some of the previous owners paid, who lived by the slogan 'victory or death'.
---
6. Virgin Beaches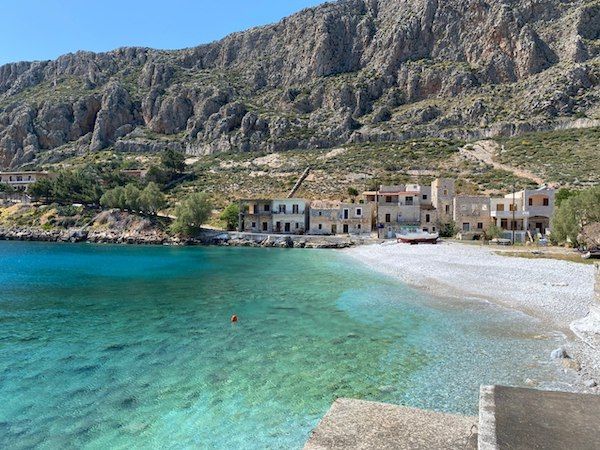 The  Peloponnese features some of the most desirable beaches in Greece with plenty of variety. Some have white sands with crystal clear waters, while others, in contrast, have pebbles and stunning scenery. Many hidden coastal treasures can only be accessed by boat, while the more popular options are well organised and surrounded by shops, taverns and restaurants. The choices are plentiful in this beautiful region of Greece.
Some of the beaches in Mani are considered amongst the top-ranked beaches in the world. They are clean, with clear warm waters rich in fish and aquatic life. In keeping with the surroundings, they are also very tranquil. Some of the most popular beaches in Mani include Mavrovouni beach - the longest in Mani, Voidokilia Beach – regularly voted one of the best in Greece, and Scoutari Beach – which is popular with families with small children.
---
7. Unpopulated Territory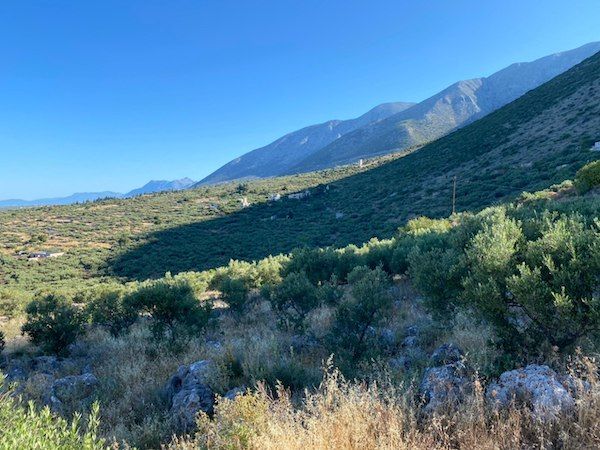 If you come from a densely populated area, chances are you long to get away from the hustle and bustle of city life. For peace and tranquillity, there are fewer better places in the world than Mani. 21,550 square kilometres of Peloponnese peninsula hosts a population of fewer than 1.5 million people.  Suffice it to say, the area around Mani is sparsely populated in comparison to much of Europe.
When you arrive for the first time, it is hard not to notice the vast expanse of open space. The luxury to roam, away from large crowds (unless you choose otherwise), offers a genuine sense of freedom. You can wander endlessly without seeing another person. You never have to live on top of others with only paper-thin walls separating you from your closest neighbour. Here in the Mani, you have room to breathe and a local population happy to greet you when you prefer the company of others.
---
8. Social Safety

It is perfectly natural to consider the safety of your family and belongings before travelling or moving abroad. As a society, the Greeks are law-abiding non-aggressive people, which makes the country as a whole one of the safest places globally. Clearly, some areas are more prone to crime than others. Cities such as Athens and tourist areas like Corfu and Rhodes have higher crime rates, which is to be expected.
After spending some time in Mani, you might wonder why the community needs police at all. The population in this rural province are self-policing, maintaining an attitude along the lines of 'pirates don't forgive thieves'. Police officers in the town appear to spend much of their time sitting in an air-conditioned station drinking coffee. For anyone seeking a safe place live and make a new life, it doesn't get any safer than the Mani.
---
9. Facilities
Learning to integrate into a foreign country is all part of the experience. But if you are concerned about the availability of facilities to help you adapt to your new environment, don't be. Greece receives many tourists throughout the year and is fully equipped with modern facilities in transport, health and education. The standard of healthcare in the Peloponnese is high, with state of the art hospitals and health care centres staffed by internationally accredited physicians. As mentioned, Greek culture is very family orientated and accommodating to children. State schools, private schools, private tuition and International Schools are amongst the options for school education for children and young adults in this part of the world.
Access to facilities and services becomes more challenging when you stay in less densely populated areas. It is therefore highly advisable to do your research before arriving. At a minimum, you will need private health insurance cover.
---
10. Smart Investment
Overpopulation in many European countries is becoming a problem. Take the UK, Italy or France, for instance; they have taken on many immigrants over the last decade. Overcrowding raises the cost of property and lowers the net quality of life for inhabitants. Increasingly, people will seek healthy drinking water, clean air, and a favourable climate. As overpopulation increases, owning a property in areas that offer these benefits will be the real gold of the future.
Mani has been largely unaffected by mass immigration and overpopulation. It is unspoilt, clean and natural, offering a very high quality of life for the people that live here. With the Greek economy in ruins, property values remain low, providing excellent value and a terrific investment opportunity. Property prices look sure to skyrocket over the next two decades, as greater numbers learn of the enormous benefits the region has to offer.